Guide rail cargo lift is the ideal solution to position cargoes or materials or cars to the required height. It was known as mezzanie lift, hydraulic goods elevator, car elevator, warehouse lift and so on. 
The guide rail cargo lift is fully customized according to the capacity, travel height(H), platform size(W*D) or installation area size(W*D). 
Basic features:
Capacity: up to 60T
Travel: up to 22m 
Speed: 4-5m/min
Chain: leaf chain
Guide rail: I-steel or H-steel which is smooth and durable using
Control type: Main control panel and controller with emergency stop at every floor
Pump location: Inside a cabinet and beside the lift
Pit or pit free mounted, as the closed height is from 150mm-300mm. If no pit, there will be ramp for cargoes in out.
Option:
1) Speed: 7.2m/min
2) Cladding fence around lift
Safety features:
1) Manual lowering valve for electric failure
2) Gate interlock, if not close the gate, lift won't work
3) Safety operation voltage 24V
4) During lift working, it will be alarm buzzing
5) 4pcs insurance ropes
6) Over-load device: if over-loading, lift won't work.
7) Explostion-proof valve to hydraulic cylinder
Models

Platform
(mm)

Lift capacity
(kg)

Travel (mm)

Pit depth

(mm)

Power        

SJD1-4

1800*2000*H1100

1000

4000

250

4KW

SJD2-6.5

1500*2000*H1100

2000

6500

250

4KW

SJD2.5-5

2300*3280*H1100

2500

5000

300

4KW

SJD4-14

2500*3500*H2200

4000

14000

300

11KW

SJD5-6.6

1450*2400*H1100

5000

6600

300

7.5KW

SJD6-13.5

2000*6500*H1500

6000

13500

300

11KW

SJD8-10

3000*7500*H1100

8000

10000

450

22KW
When the installation area is small or high travel or  big platform size, you require a guide rail cargo lift for your applications!
Followed are some applictions of the lift.
Guide rail cargo lift in warehouse: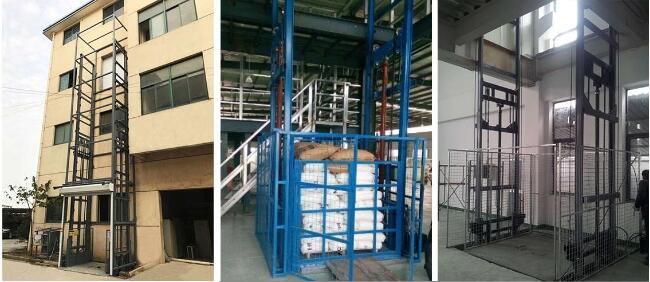 Lift for cars: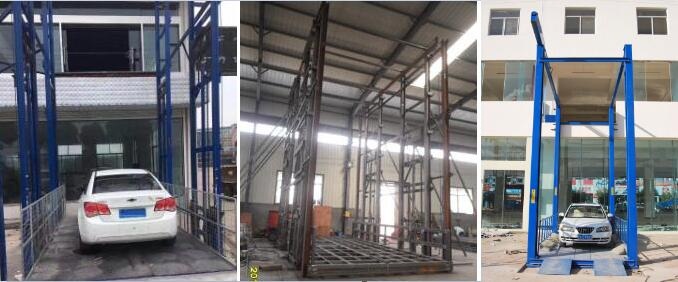 Lift with cladding fence: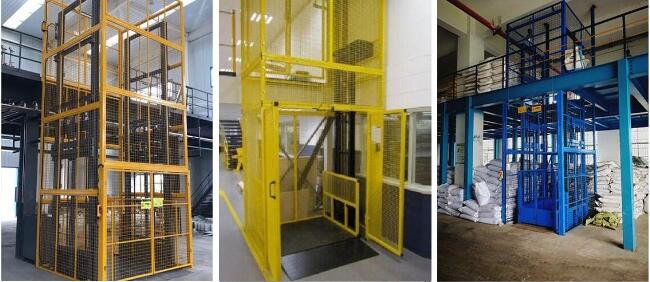 With its special structure, main body of the guide rail lift is disassembled into platform, guide rail two parts.
The cylinders, leaf chain, insurance rope were assembled with guide rails as followed picture.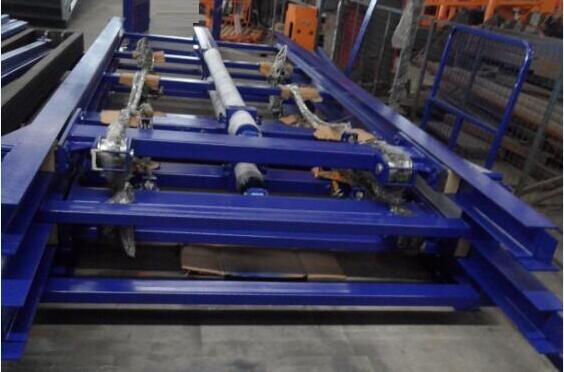 All the installation parts, such as built-in fittings, expansion screws, connection steel pipe and plate are together with lift. 
Electric wires are connected with marked plugs.
Details of the installation guide with pictures, drawings will be together with the guide rail lift.
Don't worry about the installation! All users can well mounted the lifts with the guide information and our technician assistance.
If require to save the installation time, we will ask technician to your place for the installation. Before technician departure, we will guide you to finish the basic installation work to save your time and cost.